Italmanometri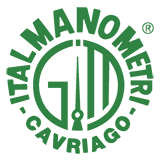 Italmanometri was founded in 1967 in the province of Reggio Emilia, Italy, with the precise aim of manufacturing pressure gauges. In order to recognise and distinguish its products, Manelli created a unique brand: the letters G and M joined by a pressure gauge pointer. Today this brand is used to mark Italmanometri products in the European and extra-European territory.
During the '80s Italmanometri srl was established. It was made up mainly of Manelli and Conti founders as well as members that have given an important contribution in development, research, creation and sale of pressure gauges all over the world, providing high precision equipment, thermometers, electrical, special and control pressure gauges.
Hydrapac Italia is proud to be a distributor of Italmanometri products worldwide.