OFFICINE MECCANICHE CIOCCA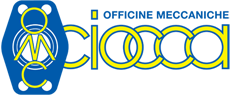 OFFICINE MECCANICHE CIOCCA are expert in the production of SAE and CETOP flanges and ball valves.
Their broad and precise product range in particularly suitable for high-pressure hydraulic transmissions, where pump-shot and oil-hammering can severely damage the components.
Made in weldable steel with less than 0,22% carbon and in AISI 316L, these flanges can work at a max. working pressure of 6000p.s.i. Material certificate are available on all of their product ranges. On request, certificates can be supplied for custom built applications.
Hydrapac Italia is proud to be a distributor of OFFICINE MECCANICHE CIOCCA products worldwide.