Poclain Hydraulics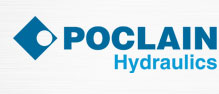 Poclain is an independant industrial group specialized in the design, manufacture and marketing of hydrostatic transmissions headquartered in France. Our expertise, known throughout the world, enables us to operate in highly diversified markets such as automotive, agriculture, construction, environmental, material handling, the industrial sectors and many others.
Poclain Hydraulics is the world leader in hydrostatic transmissions based on high performance cam-lobe radial-piston motors.
Hydrapac Italia is proud to be a distributor of Poclain Hydraulics products worldwide.