Christmas Holidays
We will be closed for Christmas holidays from December 23rd to January 6th included.
PLP PUMPS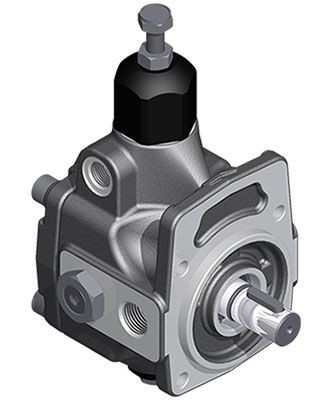 Low pressure variable displacement vane pumps with mecchanical pressure compensator.
Main Features
ROTATION DIRECTION: Right hand (clockwise – viewed from shaft end )
MOUNTING FLANGE : Flange 4 bolt (UNI ISO 3019/2) and Flange as gear pump size 2
PORT CONNECTION : GAS BSP(UNI ISO 228/1)threads
PRESSURE COMPENSATOR: Mechanical , direct
OTHER: All pumps are equipped with volume adjustment unit (flow adjuster) Only on request arrangement for coupling to all vane pumps and to main other types of pumps available on fluid power market.
| Series/Model Code | Geometric Displacement (cm3/rev) | Max Flow Rateat 1450 rpm (l/min) | Max Operating Pressure (bar) |
| --- | --- | --- | --- |
| 01-PLP-05-16 | 16 | 23 | 120 |
| 01-PLP-1-20 | 20 | 29 | 100 |
| 01-PLP-1-25 | 25 | 36 | 100 |
| 01-PLP-1-32 | 32 | 47 | 100 |