Christmas Holidays
We will be closed for Christmas holidays from December 23rd to January 6th included.
TUBOMATIC H83/EEL / TUBH83/EEL
Tubomatic H83/E EL is ideal for crimping hydraulic hoses up to 1" six spirals and up to 1"1/2 four spirals.
Main Features
ideal for crimping any type of fitting
Product specifications could be modified without prior notice.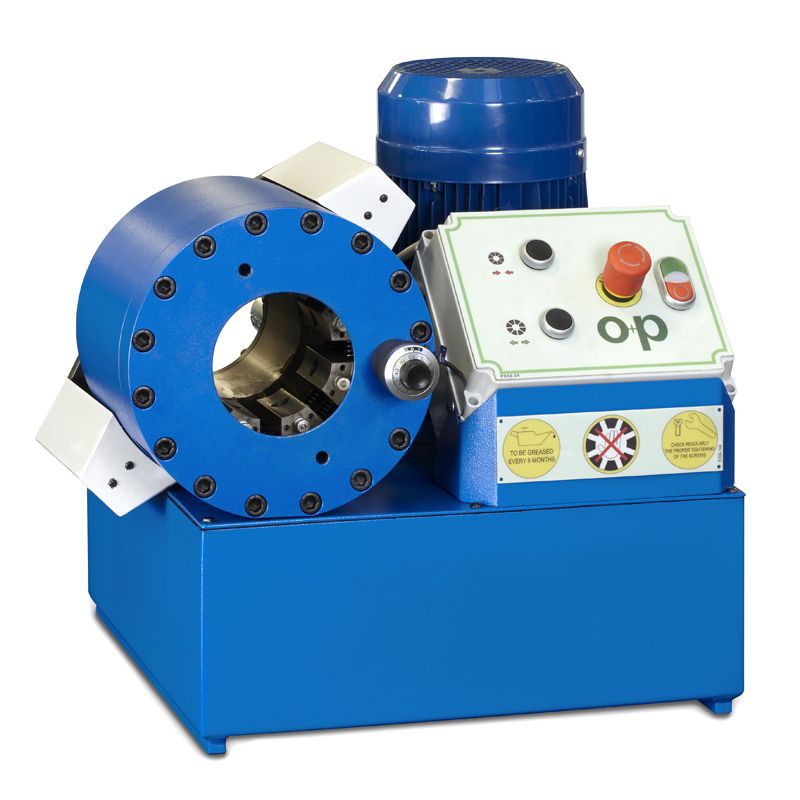 ---
| | |
| --- | --- |
| CRIMPING FORCE | 135 TON (150 US TONS) |
| 6 SPIRALS 2 PIECES | 1'' |
| 4 SP 2 PIECES WITH SPECIAL DIES | 1''1/2 |
| 4 SH 2 PIECES ACCORDING TO THE FITTING | 1''1/4 |
| MAX Diam. | 64 mm* (2.519'') |
| DIE OPENING | Ø + 42 mm (Ø + 1.654'') |
| 90 FITTINGS | 1''1/4 |
| STANDARD VOLTAGE | 375V-420V 50HZ 3PH |
| MOTOR POWER | 3 Kw (4 Hp) |
| DIMENSIONS L x W x H | 590x590x540 mm (23.228''x23.228''x21.259'') |
| WEIGHT WITHOUT OIL | 120 Kg (264 Lbs) |
| OIL | 30 lt.incl. |
| ONE ACTING CYLINDER | incl. |
| ELECTROMECHANICAL CONTROL [EL] | incl. |
| VERNIER DIAL | incl. |
| DISPENSER + QUICK CHANGE | OPTIONAL |
| DISPENSER STANDARD + CAMBIO RAPIDO BREVETTATO | OPTIONAL |
| BASE | OPTIONAL |
| ELECTRIC PEDAL | OPTIONAL |
| MARKING DIES | OPTIONAL |
| SPECIAL DIES | OPTIONAL |
| SPECIAL VOLTAGE | OPTIONAL |