Christmas Holidays
We will be closed for Christmas holidays from December 23rd to January 6th included.
TUBOCUT 5 / TUBOCUT5
TUBOCUT 5 is an automatic cutting machine ideal for the volume production of hose assemblies.
The machine can cut hose up to a diameter of 1'' four spirals; cutting range from a minimum outside diameter of 10 mm up to 41 mm.
Main Features
automated hose feeding;
cutting machine with Siemens PLC control with 9'' color touch-screen display;
recessed blade and guards for the operator's safety;
hose marking system;
suction pipe connection;
cleaning drawer / blade replacement.
Product specifications could be modified without prior notice.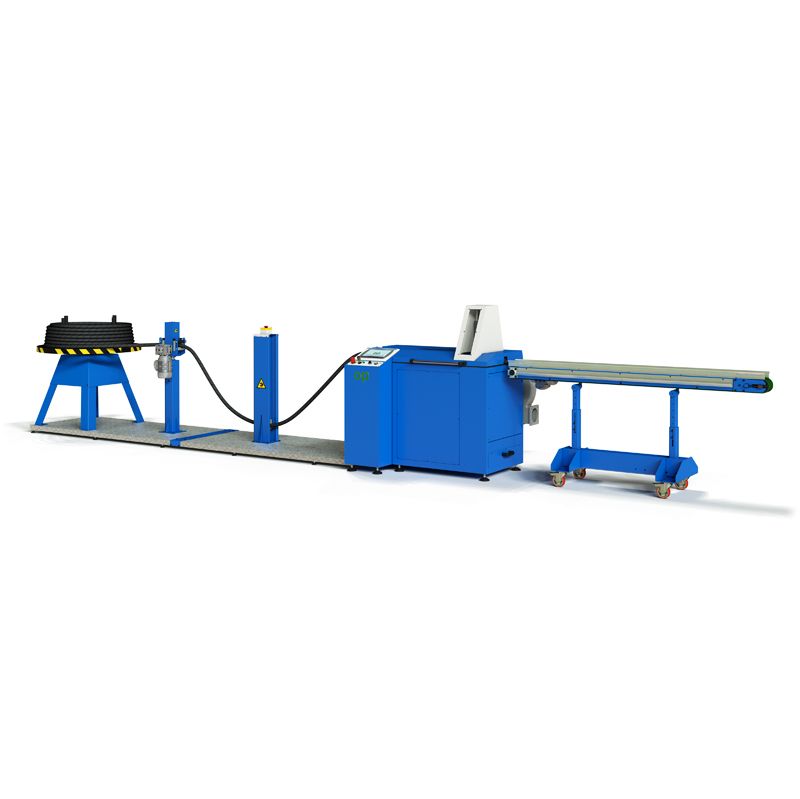 ---
| | |
| --- | --- |
| 4 SPIRALS | 1'' |
| OD HOSE | 10-41 mm (0.394'''-1.614'') |
| CUTTING TOLERANCE | ± 2 % |
| MIN. CUTTING LENGTH | 250 mm (9.8425'') |
| MAX. CUTTING LENGTH | 99999 mm (3936.961'') |
| BELT SPEED | 15 - 30 - 40 M/MIN. |
| BLADE Diam. | 520 mm (20.472'') |
| REVOLUTIONS/MINUTE | 2800 |
| MAX. REEL WEIGHT | 150 KG (330 Lbs) |
| STANDARD VOLTAGE | 400V 50HZ 3PH |
| BLADE MOTOR POWER | 5.5 kw (7.5 Hp) A=9,85 |
| TRANSMISSION BELT MOTOR POWER | 0.35 Kw (0.5 Hp) |
| SUCTION HOSE CONNECTION Diam. | 100 mm (3.937'') |
| PNEUMATIC INPUT | MAX 6 BAR (84 psi) |
| CUTTING MACHINE WEIGHT | 750 KG (1653 Lbs) |
| HOSE FEEDING SYSTEM WEIGHT | 250 KG (552 Lbs) |
| CONVERYOR BELT WEIGHT | 110 KG (240 Lbs) |
| CUTTING MACHINE DIMENSIONS L x W x H | 1450 x 850 x 1450 mm (57.087''x33.465''x57.087'') |
| WINDER DIMENSIONS L x W x H | 4150 x 1050 x 1250 mm (163.385''x41.339''x49.212'') |
| CONVEYOR BELT DIMENSIONS L x W x H | 2150 x 500 x 1000 mm (84.645''x19.685''x39.370'') |
| FUME EXTRACTOR | OPTIONAL |
| CONVEYOR BELT | OPTIONAL |
| CONNECTION FROM ES4 TO PC | OPTIONAL |
| BARCODE | OPTIONAL |
| HOSE MARKING SYSTEM WITH USER INTERFACE | OPTIONAL |