Christmas Holidays
We will be closed for Christmas holidays from December 23rd to January 6th included.
BC1200ES/WATER - BC2000ES/WATER / BC1200ES/WATER-BC2000ES/WATER
1200 and 2000 bar water test bench provided with pneumo-hydraulic pump.
Automatic door opening and luminous signal.
Lighted internal chamber protected by a shock-proof testing window; oil-protecting mesh and shelve for tools.
Static and impulse pressure by air-oil pressure multiplier.
PLC control.
Chamber and components are made in stainless steel.
Product specifications could be modified without prior notice.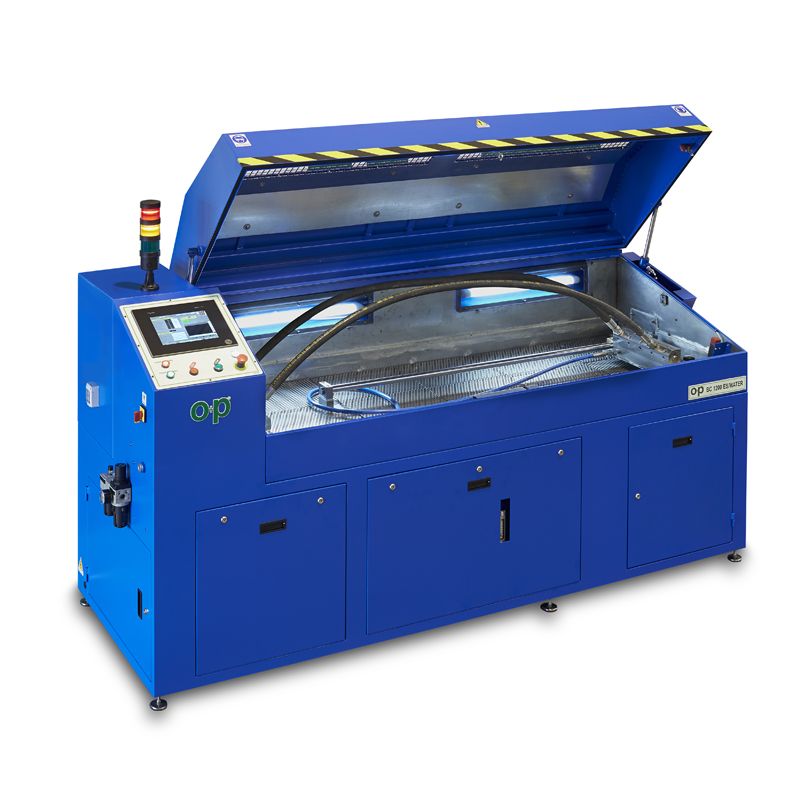 ---
| | |
| --- | --- |
| STATIC PRESSURE | 1200-2000 bar (11600 -17400 - 29000 psi |
| IMPULSE PRESSURE | 1200 - 2000 bar (11600 - 17400 - 29000 psi) |
| MIN. STARTING PRESSURE | 1200 bar: 30 bar (435 psi) 2000 bar: 50 bar (725 psi) |
| PRESSURE CONTROL | automatic |
| TEST | automatic |
| TYPE OF DRIVE | pneumatic intensifier |
| TEST LIQUID | water |
| N. MANIFOLDS | 2 |
| N. MANIFOLD CONNECTIONS | 15x1/4'' BSP |
| LIQUID FILLING | automatic |
| FILLING FLOW | 17 Lt/min |
| HOSE EMPTYING SYSTEM | automatic |
| PRESSURE DISCHARGE | automatic |
| PRESSURE DISPLAY | digital |
| DOOR MECHANIC SAFETY DEVICE | automatic |
| DOOR ELECTRIC SAFETY DEVICE | automatic |
| STANDARD CHAMBER DIMENSIONS | 2200x900 mm (86.614''x 35.433'') |
| BENCH DIMENSIONS | 2700x980x1700 mm (106.299''x38.583''x6.930'') |
| AIR CONSUMPTION | 1500 Lt/min |
| TANK | 100 Lt |
| STANDARD VOLTAGE | 400V 50HZ 3PH |
| WEIGHT WITHOUT WATER | 976 KG (2150 Lbs) |
| AUTOMATIC CONTROL WITH PLC | Incl. |
| AUTOMATIC DOOR OPENING | Incl. |
| INTERNAL LIGHTNING | Incl. |
| SHOCK-PROOF CHECKING WINDOWS | Incl. |
| SUCTION FILTER | Incl. |
| DELIVERY FILTER | Incl. |
| SHELVES FOR TOOLS | Incl. |
| SLIDING MANIFOLDS | Incl. |
| PEAK PRESSURE MEMORY | Incl. |
| LEVEL ALARM | Incl. |
| USB CONNECTION CONFIGURATION | Incl. |
| PDF FILE PRINTING | Incl. |
| SAE MANIFOLDS | OPTIONAL |
| ADAPTORS | OPTIONAL |
| BURST-PROOF PROTECTION | OPTIONAL |
| TESTING CHAMBER 3000 mm | OPTIONAL |
| WASHING | OPTIONAL |
| PC CONNECTION | OPTIONAL |
| SPECIAL VOLTAGE | OPTIONAL |
| CONNECTION FROM PLC TO PC | OPTIONAL |