Christmas Holidays
We will be closed for Christmas holidays from December 23rd to January 6th included.
2FSI - FFI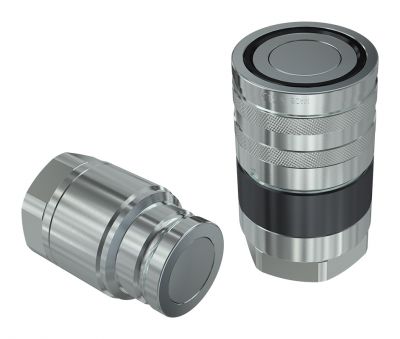 Applications
Sectors latching couplers. Size 1,1/2" - 2" -3"
Flat face couplings equipped with sector latching system. High resistance to the Brinelling effect, provoked by high frequency impulse pressures. Available on 1", 1-1/2", 2" and 3" sizes. MARKET interchange.
Items
| Size (mm) | PartNumber | Thread | HEX1 | D1 | L1 |
| --- | --- | --- | --- | --- | --- |
| 37,5 | 2FSI112 GAS F | BSPP 1-1/2" FEMALE | 70 | 80 | 133.4 |
| 37,5 | 2FSI112 NPT F | NPTF 1-1/2" FEMALE | 70 | 80 | 133.4 |
| 50 | 2FSI 2 GAS F | BSPP 2" FEMALE | 80 | 100 | 158.1 |
| 75 | 2FSI 3 GAS F | BSPP 3" FEMALE | 115 | 159 | 211.5 |
| Size (mm) | PartNumber | Thread | HEX1 | D1 | D3 | L1 |
| --- | --- | --- | --- | --- | --- | --- |
| 37,5 | FFI112 GAS M | BSPP 1-1/2" FEMALE | 65 | 70 | 57 | 104.2 |
| 37,5 | FFI112 NPT M | NPTF 1-1/2" FEMALE | 65 | 70 | 57 | 104.2 |
| 50 | FFI 2 GAS M | BSPP 2" FEMALE | 80 | 90 | 73 | 142 |
| 75 | FFI 3 GAS M | BSPP 3" FEMALE | 115 | 159 | 125 | 182.3 |