Christmas Holidays
We will be closed for Christmas holidays from December 23rd to January 6th included.
4SRPV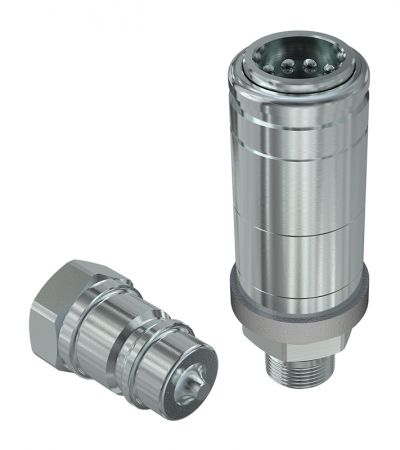 Applications
Push-pull female couplings for agriculture
Push-pull couplings, connectable under residual pressure in both male and female side. Can be screwed directly into valve ports or rigid pipes. Breakaway function. ISO 7241 part A interchange.
Items
| Size (mm) | PartNumber | Thread | HEX1 | HEX2 | D1 | L1 |
| --- | --- | --- | --- | --- | --- | --- |
| 12,5 | 4SRPV087/2215FH | M26x1.5 MALE BULKHEAD SHORT 18L | 32 | 27 | 42 | 125.2 |
| 12,5 | 4SRPV081/22F H | M22x1,5 MALE | 32 | | 42 | 112.5 |
| 12,5 | 4SRPV08 12GF H | BSPP 1/2" FEMALE | 27 | | 42 | 109 |
| 12,5 | 4SRPV0821/22FAH | | 32 | | 38 | 112 |
| 12,5 | 4SRPV08 12NF H | NPTF 1/2" FEMALE | 27 | | 42 | 109 |
| 12,5 | 4SRPV08 12SF H | 3/4"-16 UNF FEMALE ORB | 27 | | 42 | 109 |
| 12,5 | 4SRPV081/22F J | | 32 | | 42 | 112.5 |
| 12,5 | 4SRPV081/22F JC | | 32 | | 42 | 112.5 |
| 12,5 | 4SRPV081/22FUMC | M22x1,5 MALE | 32 | | 42 | 111 |
| 12,5 | 4SRPV081/22FVAC | | 32 | | 42 | 112.5 |
| 12,5 | 4SRPV0812/34SFH | 1-3/16"-12 UN MALE BULKHEAD ORFS | 36 | 38 | 42 | 132 |
| 12,5 | 4SRPV0814/58SFH | 7/8"-14 UNF MALE BULKHEAD JIC | 32 | 27 | 42 | 130.5 |
| 12,5 | 4SRPV0819/22F H | M22x1,5 MALE | 32 | | 42 | 136.5 |
| 12,5 | 4SRPV0822/38GFH | BSPP 3/8 MALE | 32 | | 38 | 112 |
| 12,5 | 4SRPV084/12GF H | BSPP 1/2 MALE BULKHEAD | 32 | 27 | 42 | 133 |
| 12,5 | 4SRPV084/38GF H | BSPP 3/8 MALE BULKHEAD | 32 | 24 | 42 | 132.5 |
| 12,5 | 4SRPV084/58GF H | BSPP 5/8 MALE BULKHEAD | 32 | 30 | 42 | 132.5 |
| 12,5 | 4SRPV087/1815FH | M18x1.5 MALE BULKHEAD SHORT 12L | 32 | 24 | 42 | 124 |