A Series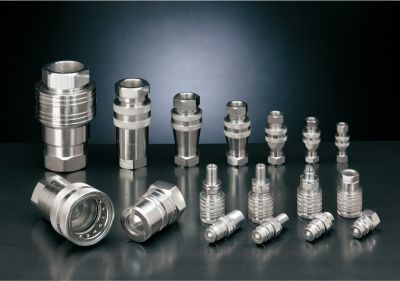 Applications
The A series quick-release couplings are the most used in the world thanks to the accordance with ISO 7241-1A standard and to the wide range of sizes. They have many hydraulic applications, especially in agriculture, in industry and in building trade.
Features
Interchangeability: ISO 7241-1A
Shut-off system: poppet valve
Latching system: balls - bearing
Connection: pulling back the sleeve
Disconnection: pulling back the sleeve
Connectability: without pressure
Disconnection under pressure: not allowed
Threads: BSP – NPTF – BSPT – UNF – METRIC
Sizes: 1/4", 3/8", 1/2", 3/4", 1", 1 ¼", 1 ½", 2"
Materials: Female in carbon steel Male in high grade carbon steel, induction hardened Steel hardened valve
Surface treatment: zinc plating and Cr III passivation, springs in C72 steel, high resistance balls 100 C6
Seals: standard NBR, on request VITON
Antiextrusion rings: PTFE
Working Temperatures: NBR -20°C +100°C VITON -15°C +140°C
For temperature exceeding this values, the quick-release couplings will be supplied with all components in steel.
Code
AM1808 AF1808 AM1012 AF1012 AM1512 AF1512 AM1812 AF1812 AM1016 AF1016 AM1516 AF1516 AM1816 AF1816 AM1020 AF1020 AM1520 AF1520 AM1820 AF1820 AM1024 AF1024 AM1524 AF1524 AM1824 AF1824 AM1032 AF1032 AM1532 AF1532 AM1832