Christmas Holidays
We will be closed for Christmas holidays from December 23rd to January 6th included.
DF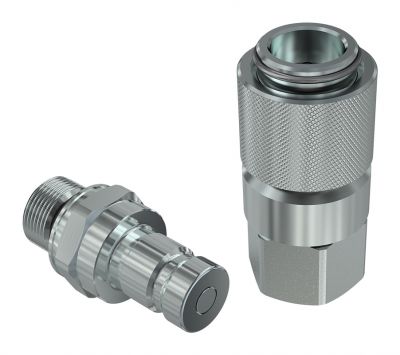 Applications
Diagnostic couplings, ISO 15171-1 interchange
Flat face couplings specifically designed to measure the internal pressure of hydraulic circuits. Male part to be mounted on the hydraulic line and female part to be connected to gauge instruments. ISO 15171-1 interchange.
Items
| Size (mm) | PartNumber | Thread | HEX1 | D1 | L1 |
| --- | --- | --- | --- | --- | --- |
| 6,3 | DF 04-14NPT F | NPTF 1/4" FEMALE | 21 | 24 | 50 |
| 6,3 | DF 04-18NPT F | NPTF 1/8" FEMALE | 21 | 24 | 42 |
| 6,3 | DF 04-1/14NPT F | 1/4" NPTF MALE | 21 | 24 | 56 |
| 6,3 | DF 04-14GAS F | BSPP 1/4" FEMALE | 21 | 24 | 52.5 |
| 6,3 | DF 04-14SAE F | 7/16"-20 UNF FEMALE ORB | 21 | 23.5 | 54 |
| 6,3 | DF 04-38SAE F | 9/16"-18 UNF FEMALE ORB | 21 | 23.5 | 54 |
| 6,3 | DF04-0/1415 F | M14x1,5 FEMALE ORB | 21 | 24 | 51.5 |
| Size (mm) | PartNumber | Thread | HEX1 | HEX2 | D1 | D3 | L1 |
| --- | --- | --- | --- | --- | --- | --- | --- |
| 6,3 | DF04-21/18G MT | 1/8" BSPP MALE | 17 | | 21 | 12.55 | 40.8 |
| 6,3 | DF 04-1/14GASM | 1/4" BSPP MALE | 19 | | 21 | 12.55 | 39.1 |
| 6,3 | DF 04-1/14NPTM | 1/4" NPTF MALE | 19 | | 21 | 12.55 | 41.1 |
| 6,3 | DF 04-14NPT M | NPTF 1/4" FEMALE | 19 | | 21 | 12.55 | 40 |
| 6,3 | DF 04-14SAE M | 7/16"-20 UNF FEMALE ORB | 19 | | 21 | 12.55 | 42 |
| 6,3 | DF 04-18NPT M | NPTF 1/8" FEMALE | 19 | | 19 | 12.55 | 36.1 |
| 6,3 | DF 04-38SAE M | 9/16"-18 UNF FEMALE ORB | 17 | | 19 | 12.55 | 37 |
| 6,3 | DF04-1/12SAEM T | 3/4"-16 UNF MALE | 24 | | 27 | 12.55 | 42.5 |
| 6,3 | DF04-1/14SAE M | 7/16"-20 UNF MALE | 17 | | 19 | 12.55 | 40.5 |
| 6,3 | DF04-1/1815 M | M18x1,5 MALE | 24 | | 27 | 12.55 | 44.1 |
| 6,3 | DF04-1/18NPT M | 1/8" NPTF MALE | 17 | | 19 | 12.55 | 40.9 |
| 6,3 | DF04-1/316SAEMT | 3/8"-24 UNF MALE | 17 | | 19 | 12.55 | 38.9 |
| 6,3 | DF04-1/38SAE M | 9/16"-18 UNF MALE | 17 | | 19 | 12.55 | 37.1 |
| 6,3 | DF04-1/516SAEM | 1/2"-20 UNF MALE | 19 | | 21 | 12.55 | 36.1 |
| 6,3 | DF04-12/14SAEM | 9/16"-18 UNF MALE BULKHEAD ORFS | 19 | 24.5 | 21 | 12.55 | 62.2 |
| 6,3 | DF04-13/38SAEM | 9/16"-18 UNF MALE JIC | 19 | | 21 | 12.55 | 41.1 |
| 6,3 | DF04-21/1215M T | M12x1,5 MALE | 19 | | 21 | 12.55 | 44.9 |
| 6,3 | DF04-21/1415M | M14x1,5 MALE | 19 | | 21 | 12.55 | 42.1 |
| 6,3 | DF04-21/14G M | 1/4" BSPP MALE | 19 | | 21 | 12.55 | 44.9 |
| 6,3 | DF04-27/14SAEM | 9/16"-18 UNF FEMALE | 17 | | 19 | 12.55 | 40.6 |
| 6,3 | DF04-28/38SAEM | 9/16" -18 UNF FEMALE JIC | 19 | | 21 | 12.55 | 38.1 |
| 6,3 | DF04-29/12SAEM | 3/4"-16 UNF FEMALE JIC | 22 | | 24.5 | 12.55 | 42.6 |
| 6,3 | DF04-35/12SAEM | 13/16"-16 UN FEMALE ORFS | 24 | | 26 | 12.55 | 39.1 |
| 6,3 | DF04-35/38SAEM | 11/16"-16 UN FEMALE ORFS | 22 | | 24 | 12.55 | 35.4 |
| 6,3 | DF04-21/18G M | 1/8" BSPP MALE | 17 | | 19 | 12.55 | 40.8 |