Christmas Holidays
We will be closed for Christmas holidays from December 23rd to January 6th included.
FHV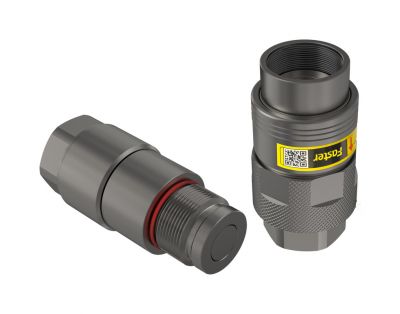 Applications
Screw to connect flat face coupling
Screw-on flat face couplings, suitable to construction equipment and heavy duty applications. The Zinc-Nickel plating guarantees a remarkable resistance to corrosion. Connectable by hand up to 35 MPa residual pressure in the male half. No hose torsion during connection and disconnection thanks to the internal bearing system. Equipped with a safety sleeve to prevent accidental disconnections due to vibrations. Aluminum and pvc dust caps available. Faster proprietary profile.
Items
| Size (mm) | PartNumber | Thread | HEX1 | HEX3 | D1 | L1 |
| --- | --- | --- | --- | --- | --- | --- |
| 10 | FHV06 38GAS F | BSPP 3/8" FEMALE | 34 | 45 | 48 | 101.8 |
| 10 | FHV06 38NPT F | NPTF 3/8" FEMALE | 34 | 45 | 48 | 101.8 |
| 10 | FHV06-71/38G F | BSPP 3/8" FEMALE ORB | 45 | 34 | 48 | 102 |
| 12,5 | FHV08 12GAS F | BSPP 1/2" FEMALE | 41 | 52 | 55 | 109.7 |
| 12,5 | FHV08 12NPT F | NPTF 1/2" FEMALE | 41 | 52 | 55 | 109.7 |
| 12,5 | FHV08 34GAS F | BSPP 3/4" FEMALE | 41 | 52 | 55 | 109.7 |
| 12,5 | FHV08-71/12G F | BSPP 1/2 FEMALE ORB | 41 | 52 | 55 | 109.7 |
| 20 | FHV12 1GAS F | BSPP 1" FEMALE | 46 | 60 | 64 | 129.5 |
| 20 | FHV12 34GAS F | BSPP 3/4" FEMALE | 46 | 60 | 64 | 129.5 |
| 20 | FHV12 34NPT F | NPTF 3/4" FEMALE | 46 | 60 | 64 | 129.5 |
| 20 | FHV12 34SAE F | | 46 | 60 | 64 | 129.5 |
| 20 | FHV12-71/34G F | BSPP 3/4 FEMALE ORB | 46 | 60 | 64 | 129.5 |
| 25 | FHV16 1GAS F | BSPP 1" FEMALE | 55 | 70 | 74 | 138 |
| 25 | FHV16 114GAS F | BSPP 1-1/4" FEMALE | 55 | 70 | 74 | 138 |
| 25 | FHV16 114NPT F | NPTF 1-1/4" FEMALE | 55 | 70 | 74 | 138 |
| 25 | FHV16 1NPT F | NPTF 1" FEMALE | 55 | 70 | 74 | 138 |
| 25 | FHV16 1SAE F | 1-5/16"-12 UN FEMALE ORB | 55 | 70 | 74 | 138 |
| 25 | FHV16-1/3320 F | M33x2 MALE | 55 | 70 | 74 | 159 |
| 25 | FHV16-34/20 F | SAE FLANGE 1-1/4 | 55 | 70 | 94.6 | 159 |
| 25 | FHV16-44/16 F | METRIC FLANGE 1 | 55 | 70 | 81.2 | 158 |
| 25 | FHV16-44/20 F | METRIC FLANGE 1-1/4 | 55 | 70 | 94.6 | 159 |
| 25 | FHV16-44A/20 F | METRIC FLANGE 1-1/4 | 55 | 70 | 94.6 | 158 |
| 25 | FHV16-71/1G F | BSPP 1 FEMALE ORB | 55 | 70 | 74 | 138 |
| 25 | FHV16-76/16 F | SAE FLANGE HEAD 1 | 55 | 70 | 74 | 191 |
| 25 | FHV16-76/20 F | SAE FLANGE HEAD 1-1/4 | 55 | 70 | 74 | 198 |
| 25 | FHV16-3/4220 F | M42x2 MALE 30S | 55 | 70 | 74 | 158 |
| 31,5 | FHV20S 114GAS F | BSPP 1-1/4" FEMALE | 55 | 70 | 74 | 146.7 |
| 31,5 | FHV20S 114NPT F | NPTF 1-1/4" FEMALE | 55 | 70 | 74 | 146.7 |
| 31,5 | FHV20S-71/114GF | BSPP 1-1/4 FEMALE ORB | 55 | 70 | 74 | 146.7 |
| 31,5 | FHV20S-71/1G F | BSPP 1 FEMALE ORB | 55 | 70 | 74 | 146.7 |
| 31,5 | FHV20S-44A/20 F | METRIC FLANGE 1-1/4 | | 70 | 74 | 167 |
| 31,5 | FHV20S-76/20 F | SAE FLANGE HEAD 1-1/4 | | 70 | 74 | 207 |
| 37,5 | FHV24 112GAS F | BSPP 1-1/2" FEMALE | 65 | 95 | 100 | 170.4 |
| 37,5 | FHV24-44A/20 F | METRIC FLANGE 1-1/4 | 65 | 95 | 94.6 | 181 |
| 37,5 | FHV24 112NPT F | NPTF 1-1/2" FEMALE | 65 | 95 | 100 | 170.4 |
| 37,5 | FHV24 114SAE F | 1-5/8"-12 UN FEMALE ORB | 65 | 95 | 100 | 170.4 |
| 37,5 | FHV24-34/20 F | SAE FLANGE 1-1/4 | 65 | 95 | 94.6 | 181 |
| 37,5 | FHV24-44/24 F | METRIC FLANGE 1-1/2 | 65 | 95 | 113.3 | 192 |
| 37,5 | FHV24-76/20 F | SAE FLANGE HEAD 1-1/4 | 65 | 95 | 100 | 226 |
| 37,5 | FHV24-76/24 F | SAE FLANGE HEAD 1-1/2 | 65 | 95 | 100 | 236 |
| 50 | FHV32 2NPT F | NPTF 2" FEMALE | 85 | 115 | 124 | 200.2 |
| 50 | FHV32-44/32 F | METRIC FLANGE 2 | 85 | 115 | 132.8 | 230.2 |
| 50 | FHV32-76/32 F | SAE FLANGE HEAD 2 | 85 | 115 | 124 | 290.7 |
| 50 | FHV24-71/112G F | BSPP 1-1/2" FEMALE ORB | 65 | 95 | 100 | 170.4 |
| Size (mm) | PartNumber | Thread | HEX1 | HEX3 | D1 | D3 | L1 |
| --- | --- | --- | --- | --- | --- | --- | --- |
| 10 | FHV06 38GAS M | BSPP 3/8" FEMALE | 36 | | 33 | 23 | 96.8 |
| 10 | FHV06 38NPT M | NPTF 3/8" FEMALE | 36 | | 33 | 23 | 96.8 |
| 10 | FHV06-71/38G M | BSPP 3/8" FEMALE ORB | 36 | | 33 | | 96.8 |
| 12,5 | FHV08 12GAS M | BSPP 1/2" FEMALE | 36 | | 44.5 | 31 | 109.5 |
| 12,5 | FHV08 12NPT M | NPTF 1/2" FEMALE | 36 | | 44.5 | 31 | 109.5 |
| 12,5 | FHV08 34GAS M | BSPP 3/4" FEMALE | 36 | | 44.5 | | 109.5 |
| 12,5 | FHV08-71/12G M | BSPP 1/2 FEMALE ORB | 36 | | 44.5 | | 109.5 |
| 20 | FHV12 1GAS M | BSPP 1" FEMALE | 46 | | 54.5 | 35 | 124.3 |
| 20 | FHV12 34GAS M | BSPP 3/4" FEMALE | 46 | | 54.5 | 35 | 122.5 |
| 20 | FHV12 34NPT M | NPTF 3/4" FEMALE | 46 | | 54.5 | 35 | 122.3 |
| 20 | FHV12 34SAE M | 1-1/16"-12 UN FEMALE ORB | 46 | | 54.5 | 35 | 122.5 |
| 20 | FHV12-71/34G M | BSPP 3/4 FEMALE ORB | 46 | | 54.5 | 35 | 123.3 |
| 25 | FHV16 1GAS M | BSPP 1" FEMALE | 55 | | 64 | 43.8 | 143.4 |
| 25 | FHV16 114GAS M | BSPP 1-1/4" FEMALE | 55 | | 64 | 43.8 | 143.8 |
| 25 | FHV16 114NPT M | | 55 | | 64 | 43.8 | 143.8 |
| 25 | FHV16 1NPT M | NPTF 1" FEMALE | 55 | | 64 | 43.8 | 143.8 |
| 25 | FHV16 1SAE M | 1-5/16"-12 UN FEMALE ORB | 55 | | 64 | 43.8 | 143.8 |
| 25 | FHV16-11/1S M | 1-7/16"-12 UN MALE ORFS | 55 | | 64 | 43.8 | 156 |
| 25 | FHV16-34/20 M | SAE FLANGE 1-1/4 | 55 | | 94.6 | 43.8 | 150.5 |
| 25 | FHV16-44/16 M | METRIC FLANGE 1 | 55 | | 81.2 | 43.8 | 150.5 |
| 25 | FHV16-44/20 M | METRIC FLANGE 1-1/4 | 55 | | 94.6 | 43.8 | 150.5 |
| 25 | FHV16-44A/20 M | METRIC FLANGE 1-1/4 | 55 | | 94.6 | 43.8 | 150.5 |
| 25 | FHV16-71/1G M | BSPP 1 FEMALE ORB | 55 | | 64 | 43.8 | 143.8 |
| 25 | FHV16-76/16 M | SAE FLANGE HEAD 1 | 55 | | 64 | 43.8 | 197.5 |
| 25 | FHV16-76/20 M | SAE FLANGE HEAD 1-1/4 | 55 | | 64 | 43.8 | 204.5 |
| 31,5 | FHV20S 114GAS M | BSPP 1-1/4" FEMALE | 55 | | 68 | 47.8 | 165.8 |
| 31,5 | FHV20S 114NPT M | NPTF 1-1/4" FEMALE | 55 | | 68 | 47.8 | 165.8 |
| 31,5 | FHV20S-71/114GM | BSPP 1-1/4 FEMALE ORB | 55 | | 68 | 47.8 | 165.8 |
| 31,5 | FHV20S-71/1G M | BSPP 1 FEMALE ORB | 55 | | 68 | 47.8 | 165.8 |
| 31,5 | FHV20S-76/20 M | SAE FLANGE HEAD 1-1/4 | 55 | | 68 | | 235 |
| 37,5 | FHV24 112GAS M | BSPP 1-1/2" FEMALE | 75 | | 84.5 | 43.8 | 187.1 |
| 37,5 | FHV24-44A/20 M | METRIC FLANGE 1-1/4 | 75 | | 94.6 | 43.8 | 185 |
| 37,5 | FHV24 112NPT M | NPTF 1-1/2" FEMALE | 75 | | 84.5 | 43.8 | 187.1 |
| 37,5 | FHV24 114SAE M | 1-5/8"-12 UN FEMALE ORB | 75 | | 84.5 | 43.8 | 187.1 |
| 37,5 | FHV24-34/20 M | SAE FLANGE 1-1/4 | 75 | | 94.6 | 43.8 | 185 |
| 37,5 | FHV24-44/24 M | METRIC FLANGE 1-1/2 | 75 | | 113.3 | 43.8 | 197 |
| 37,5 | FHV24-76/20 M | SAE FLANGE HEAD 1-1/4 | 75 | | 84.5 | 43.8 | 247 |
| 37,5 | FHV24-76/24 M | SAE FLANGE HEAD 1-1/2 | 75 | | 84.5 | 43.8 | 247 |
| 37,5 | FHV24-44/20 M | METRIC FLANGE 1-1/4 | | | 85 | | 188 |
| 50 | FHV32 2NPT M | NPTF 2" FEMALE | 85 | | 115 | 84.9 | 237 |
| 50 | FHV32-44/32 M | METRIC FLANGE 2 | 85 | | 132.8 | 84.9 | 253 |
| 50 | FHV32-76/32 M | SAE FLANGE HEAD 2 | 85 | | 115 | 84.9 | 332 |
| 50 | FHV24-71/112G M | BSPP 1-1/2" FEMALE ORB | | 75 | 84.5 | | 187 |