Christmas Holidays
We will be closed for Christmas holidays from December 23rd to January 6th included.
PVVM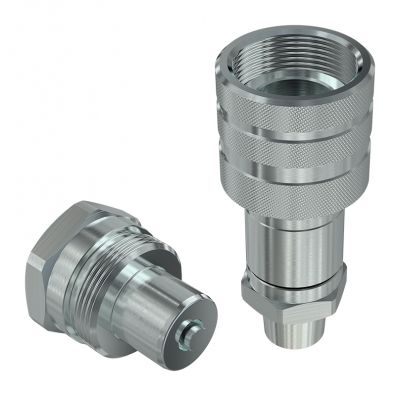 Applications
Screw to connect couplings for high pressure, ISO 14540 interchange, poppet valve
Screw-on couplings purposely designed for the heaviest applications (e.g.: hydraulic jacks for bridge maintenance). Equipped with a robust metal-to-metal sealing poppet valve, this series guarantees the best performance on the market in terms of maximum working pressure. ISO 14540 interchange.
Items
| Size (mm) | PartNumber | Thread | HEX1 | HEX3 | D1 | L1 |
| --- | --- | --- | --- | --- | --- | --- |
| 6,3 | PVVM1/14NPT F | NPTF 1/4" MALE | 21 | 30 | 33 | 63 |
| 10 | PVVM1/38NPT F | NPTF 3/8" MALE | 25 | | 36 | 83 |
| 10 | PVVM38-1/14NPTF | NPTF 1/4" MALE | 25 | | 36 | 148.7 |
| 10 | PVVM38-23/14G F | BSPP 1/4 MALE SPECIAL | 25 | | 36 | 147.7 |
| 10 | PVVM38-23/14GFL | | 25 | | 36 | 147.7 |
| Size (mm) | PartNumber | Thread | HEX1 | D1 | D3 | L1 |
| --- | --- | --- | --- | --- | --- | --- |
| 6,3 | PVVM 14 NPT M | NPTF 1/4" FEMALE | 27 | 30 | | 34 |
| 10 | PVVM 38 NPT M | NPTF 3/8" FEMALE | 32 | 35 | | 39 |
| 10 | PVVM38-23/14GML | | 34 | 35.5 | 19 | 64 |
| 10 | PVVM38-23/14G M | BSPP 1/4 MALE SPECIAL | 25 | 35.5 | | 63.8 |