Christmas Holidays
We will be closed for Christmas holidays from December 23rd to January 6th included.
RF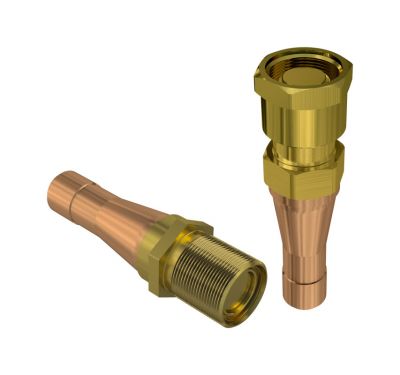 Applications
Screw to connect couplings for air conditioning & refrigeration application
This range of couplings has been specifically designed for air conditioning and refrigeration systems. Interchangeability according to market driven standards. Available in several versions in steel, brass and with copper sweat braze adaptor.
Items
| Size (mm) | PartNumber | Thread | HEX1 | HEX3 | D1 | L1 |
| --- | --- | --- | --- | --- | --- | --- |
| 6,3 | RF 04 F V | | 16 | 19 | 21 | 28.7 |
| 6,3 | RF 04 F V UL | | 16 | 19 | 21 | 28.7 |
| 6,3 | RF 04 TD38 F H | | 16 | 19 | 21 | 47.6 |
| 10 | RF 06 CS065 F5H | | 22 | 24 | 27 | 76 |
| 10 | RF 06 CS065 F5N | | 22 | 24 | 27 | 76 |
| 10 | RF 06 CS095 F5H | | 22 | 24 | 27 | 76 |
| 10 | RF 06 CS095 F5N | 3/8" | 22 | 24 | 27 | 76 |
| 10 | RF 06 F 5 N | M18x1,5 FEMALE ORB | 22 | 24 | 27 | 34.9 |
| 10 | RF 06 TD12 F H | | 22 | 24 | 27 | 57.3 |
| 12,5 | RF 08 CS095 F5N | 3/8" | 27 | 30 | 34 | 111 |
| 12,5 | RF 08 CS125 F5N | 1/2" | 27 | 30 | 34 | 107 |
| 12,5 | RF 08 CS160 F5N | 5/8" | 27 | 30 | 34 | 107 |
| 20 | RF 12 CS160 F5N | 5/8" | 36 | 41 | 45 | 131 |
| 20 | RF 12 CS190 F5N | 3/4" | 36 | 41 | 45 | 131 |
| 20 | RF 12 CS220 F5N | 7/8" | 36 | 41 | 45 | 131 |
| 20 | RF 12 F H | | 36 | 41 | 45 | 57 |
| 25 | RF 16 CS220 F5N | 7/8" | 46 | 50 | 55 | 146.5 |
| 25 | RF 16 CS255 F5N | 1" | 46 | 50 | 55 | 146.5 |
| Size (mm) | PartNumber | Thread | HEX1 | HEX2 | HEX3 | D1 | D3 | L1 |
| --- | --- | --- | --- | --- | --- | --- | --- | --- |
| 6,3 | RF 04 M V UL | | 19 | | 19 | 21 | 15.8 | 27.5 |
| 6,3 | RF 04 TD38 M H | | 19 | | 19 | 21 | 15.8 | 46.4 |
| 10 | RF 06 CS065 M5H | | 22 | | | 25 | 20 | 67.5 |
| 10 | RF 06 CS065 M5N | 1/4" | 22 | | | 25 | 20 | 67.5 |
| 10 | RF 06 CS095 M5H | | 22 | | | 25 | 20 | 67.5 |
| 10 | RF 06 CS095 M5N | 3/8" | 22 | | | 25 | 20 | 67.5 |
| 10 | RF 06 M 5 N | M18x1,5 FEMALE ORB | 22 | 24 | | 24 | 20 | 26.5 |
| 10 | RF 06 M N | M18x1,5 FEMALE ORB | 22 | 24 | | 27 | 20 | 27.5 |
| 10 | RF 06 TD12 M H | | 22 | 24 | | 27 | 20 | 50.3 |
| 12,5 | RF 08 CS095 M5N | 3/8" | 28 | | | 32 | 25.4 | 100 |
| 12,5 | RF 08 CS125 M5N | 1/2" | 28 | | | 32 | 25.4 | 96 |
| 12,5 | RFR08 TS125LM5N | 1/2" | 28 | | | 32 | 25.4 | 159.5 |
| 20 | RF 12 CS160 M5N | 5/8" | 41 | | | 46 | 36.5 | 118.5 |
| 20 | RF 12 CS190 M5N | 3/4" | 41 | | | 46 | 36.5 | 118.5 |
| 20 | RF 12 CS220 M5N | 7/8" | 41 | | | 46 | 36.5 | 118.5 |
| 20 | RF 12 M H | | 41 | | | 46 | 36.5 | 44 |
| 20 | RF 12 M H CAT | | 41 | | | 46 | 36.5 | 44 |
| 25 | RF 16 CS220 M5N | 7/8" | 48 | | | 53 | 44.5 | 130.8 |
| 25 | RF 16 CS255 M5N | 1" | 48 | | | 53 | 44.5 | 130.8 |
| 25 | RFR16 TS290LM5N | | 48 | | | 53 | 44.5 | 194.5 |