S Series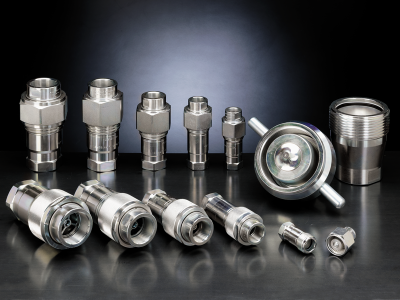 Applications
Mechanical strength and the impossibility of an accidental release of the male from the female makes very safe the use of these screw-on couplings: they are very suitable in heavy hydraulic applications either for adverse environment conditions or for high work pressures. Fields of application: industry, iron industry, oil plant, earth moving machinery and similar service vehicles.
Features
Interchangeability: according to MB internal standard
Shut-off system: poppet valve
Latching system: screw-on
Connection: screwing-on the male's sleeve
Disconnection: screwing-off the male's sleeve
Connectability: allowed under residual pressure
Disconnection under pressure: allowed under residual pressure
Threads: BSP – NPTF
Sizes: 1/4", 3/8", 1/2", 3/4", 1", 1 ¼", 1 ½", 2", 2.1/2", 3"
Materials: Female in carbon steel, sleeve and male in high grade carbon steel, steel hardened valve
Surface treatment: zinc plating and Cr III passivation Springs in C72 steel
Seals: standard NBR, on request VITON
Antiextrusion rings: PTFE
Working Temperatures: NBR -20°C +100°C VITON -15°C +140°C
For temperature exceeding this values, the quick-release couplings will be supplied with all components in steel.
Code
SM1004 SF1004 SM1504 SF1504 SM1804 SF1804 SM1006 SF1006 SM1506 SF1506 SM1806 SF1806 SM1008 SF1008SM1508 SF1508 SM1808 SF1808 SM1012 SF1012 SM1512 SF1512SM1812 SF1812 SM1016 SF1016SM1516 SF1516SM1816 SF1816SM1020 SF1020SM1520 SF1520 SM1820 SF1820 SM1024 SF1024 SM1524 SF1524 SM1824 SF1824 SM1032 SF1032 SM1532 SF1532 SM1832 SF1832 SM1040 SF1040 SM1540 SF1540 SM1840 SF1840