Christmas Holidays
We will be closed for Christmas holidays from December 23rd to January 6th included.
TNL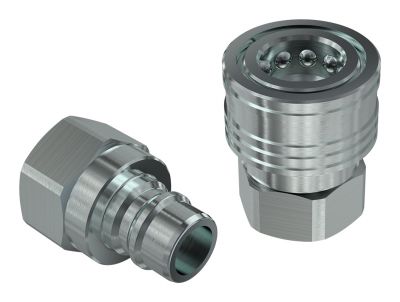 Applications
Standard couplings, free flow
TNL series couplings are commonly used in US market as an alternative to standard series. Assembled without internal valves they have been designed to maximize flow. Fully interchangeable with TNV versions.
Items
| Size (mm) | PartNumber | Thread | HEX1 | D1 | L1 |
| --- | --- | --- | --- | --- | --- |
| 6,3 | TNL 04 NPT F | NPTF 1/4" FEMALE | 22 | 24 | 50 |
| 12,5 | TNL 08 GAS F | BSPP 1/2" FEMALE | 30 | 34 | 65 |
| 12,5 | TNL 08 NPT F | NPTF 1/2" FEMALE | 30 | 34 | 65 |
| 20 | TNL 12 NPT F | NPTF 3/4" FEMALE | 36 | 42 | 64 |
| 20 | TNL 12 NPT F V | NPTF 3/4" FEMALE | 36 | 42 | 64 |
| Size (mm) | PartNumber | Thread | HEX1 | D1 | D3 | L1 |
| --- | --- | --- | --- | --- | --- | --- |
| 6,3 | TNL 04 NPT M | NPTF 1/4" FEMALE | 22 | 24 | 10.8 | 49 |
| 10 | TNL 06 NPT M | NPTF 3/8" FEMALE | 30 | 27 | 12.9 | 57 |
| 12,5 | TNL 08 GAS M | BSPP 1/2" FEMALE | 30 | 34 | 16 | 63 |
| 20 | TNL 12 NPT M | NPTF 3/4" FEMALE | 36 | 42 | 23.3 | 64 |