Christmas Holidays
We will be closed for Christmas holidays from December 23rd to January 6th included.
VV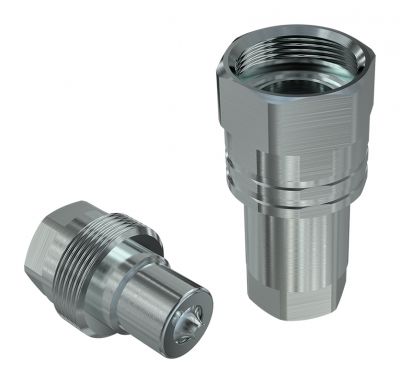 Applications
Screw to connect standard couplings, double function sleeve.
VV series couplings are very robust and reliable and allow to connect under residual pressure. Thanks to a double function sleeve it's also possible to connect a female part with either VV or NV male halves. Faster proprietary profile.
Items
| Size (mm) | PartNumber | Thread | HEX1 | HEX3 | D1 | L1 |
| --- | --- | --- | --- | --- | --- | --- |
| 6,3 | VV 14 GAS F | BSPP 1/4" FEMALE | 19 | 27 | 30 | 60 |
| 6,3 | VV 14 NPT F | NPTF 1/4" FEMALE | 19 | 27 | 30 | 60 |
| 10 | VV 38 GAS F | BSPP 3/8" FEMALE | 24 | 34 | 38 | 72 |
| 10 | VV 38 NPT F | NPTF 3/8" FEMALE | 24 | 34 | 38 | 72 |
| 12,5 | VV 12 GAS F | BSPP 1/2" FEMALE | 27 | 38 | 42 | 79 |
| 12,5 | VV 12 NPT F | NPTF 1/2" FEMALE | 27 | 38 | 42 | 79 |
| 20 | VV 34 GAS F | BSPP 3/4" FEMALE | 34 | 50 | 55 | 106 |
| 20 | VV 34 NPT F | NPTF 3/4" FEMALE | 34 | 50 | 55 | 106 |
| 25 | VV 1 GAS F | BSPP 1" FEMALE | 41 | 55 | 61.5 | 124 |
| 25 | VV 1 NPT F | NPTF 1" FEMALE | 41 | 55 | 61.5 | 124 |
| Size (mm) | PartNumber | Thread | HEX1 | D1 | D2 | D3 | L1 |
| --- | --- | --- | --- | --- | --- | --- | --- |
| 6,3 | VV 14 GAS M | BSPP 1/4" FEMALE | 19 | 25.4 | 14.1 | 21.5 | 34.7 |
| 6,3 | VV 14 NPT M | NPTF 1/4" FEMALE | 19 | 25.4 | 14.1 | | 33 |
| 10 | VV 38 GAS M | BSPP 3/8" FEMALE | 24 | 30.4 | 18.9 | | 40.5 |
| 10 | VV 38 NPT M | NPTF 3/8" FEMALE | 24 | 30.4 | 18.9 | | 40.5 |
| 12,5 | VV 12 GAS M | BSPP 1/2" FEMALE | 27 | 34 | 20.5 | | 49 |
| 12,5 | VV 12 NPT M | NPTF 1/2" FEMALE | 27 | 34 | 20.5 | | 49 |
| 20 | VV 34 GAS M | BSPP 3/4" FEMALE | 34 | 43.5 | 27.9 | | 62 |
| 20 | VV 34 NPT M | NPTF 3/4" FEMALE | 34 | 43.5 | 27.9 | | 62 |
| 25 | VV 1 GAS M | BSPP 1" FEMALE | 41 | 52 | 31.8 | | 73 |
| 25 | VV 1 NPT M | NPTF 1" FEMALE | 41 | 52 | 31.8 | | 73 |