Christmas Holidays
We will be closed for Christmas holidays from December 23rd to January 6th included.
VVS stainless steel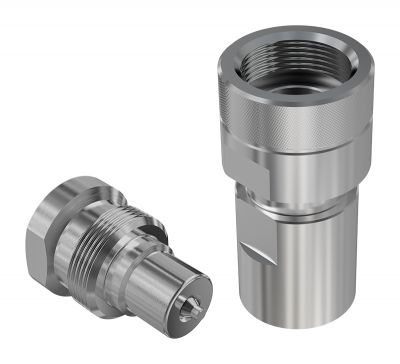 Applications
Screw to connect couplings for high pressure applications, Faster interchange, stainless steel
Screw-on stainless steel (AISI 316) couplings commonly used for applications characterized by very high working pressures and peaks. High resistance to corrosion. Heavy duty internal components guarantee the maximum safety and reliability. Faster proprietary profile.
Items
| Size (mm) | PartNumber | Thread | HEX1 | HEX3 | D1 | L1 |
| --- | --- | --- | --- | --- | --- | --- |
| 6,3 | VVS 14 GAS F 2V | BSPP 1/4" FEMALE | 22 | 27 | 30 | 68 |
| 6,3 | VVS 14 NPT F 2V | NPTF 1/4" FEMALE | 22 | 27 | 30 | 68 |
| 10 | VVS 38 GAS F 2V | BSPP 3/8" FEMALE | 30 | 36 | 40 | 75.4 |
| 10 | VVS 38 NPT F 2V | NPTF 3/8" FEMALE | 30 | 36 | 40 | 76 |
| 12,5 | VVS 12 GAS F 2V | BSPP 1/2" FEMALE | 34 | 41 | 45 | 87 |
| 12,5 | VVS 12 NPT F 2V | NPTF 1/2" FEMALE | 34 | 41 | 45 | 87 |
| 20 | VVS 34 GAS F 2V | BSPP 3/4" FEMALE | 41 | 50 | 55 | 106 |
| 20 | VVS 34 NPT F 2V | NPTF 3/4" FEMALE | 41 | 50 | 55 | 106 |
| 25 | VVS 1 GAS F 2V | BSPP 1" FEMALE | 50 | 55 | 60 | 124 |
| 25 | VVS 1 NPT F 2V | NPTF 1" FEMALE | 50 | 55 | 60 | 124 |
| 31,5 | VVS114 GAS F 2V | BSPP 1-1/4" FEMALE | 65 | 75 | 80 | 153 |
| 31,5 | VVS114 NPT F 2V | NPTF 1-1/4" FEMALE | 65 | 75 | 80 | 153 |
| 37,5 | VVS112 GAS F 2V | BSPP 1-1/2" FEMALE | 75 | 90 | 98 | 172 |
| 37,5 | VVS112 NPT F 2V | NPTF 1-1/2" FEMALE | 75 | 90 | 98 | 172 |
| 50 | VVS 2 GAS F 2V | BSPP 2" FEMALE | 100 | 125 | 129 | 207 |
| 50 | VVS 2 NPT F 2V | NPTF 2" FEMALE | 100 | 125 | 129 | 207 |
| Size (mm) | PartNumber | Thread | HEX1 | D1 | D3 | L1 |
| --- | --- | --- | --- | --- | --- | --- |
| 6,3 | VVS 14 GAS M 2V | BSPP 1/4" FEMALE | 25 | 28 | 14.1 | 43 |
| 6,3 | VVS 14 NPT M 2V | NPTF 1/4" FEMALE | 25 | 28 | 14.1 | 43 |
| 10 | VVS 38 GAS M 2V | BSPP 3/8" FEMALE | 32 | 35 | 18.9 | 48 |
| 10 | VVS 38 NPT M 2V | NPTF 3/8" FEMALE | 32 | 35 | 18.9 | 48 |
| 12,5 | VVS 12 GAS M 2V | BSPP 1/2" FEMALE | 34 | 38 | 20.5 | 53 |
| 12,5 | VVS 12 NPT M 2V | NPTF 1/2" FEMALE | 34 | 38 | 20.5 | 53 |
| 20 | VVS 34 GAS M 2V | BSPP 3/4" FEMALE | 65 | 50 | 27.9 | 63 |
| 20 | VVS 34 NPT M 2V | NPTF 3/4" FEMALE | 46 | 50 | 27.9 | 63 |
| 25 | VVS 1 GAS M 2V | BSPP 1" FEMALE | 50 | 55 | 31.3 | 72 |
| 25 | VVS 1 NPT M 2V | NPTF 1" FEMALE | 50 | 55 | 31.3 | 72 |
| 31,5 | VVS114 GAS M 2V | BSPP 1-1/4" FEMALE | 65 | 70 | 43.9 | 86 |
| 31,5 | VVS114 NPT M 2V | NPTF 1-1/4" FEMALE | 65 | 70 | 43.9 | 86 |
| 37,5 | VVS112 GAS M 2V | BSPP 1-1/2" FEMALE | 80 | 84 | 53.4 | 95 |
| 37,5 | VVS112 NPT M 2V | NPTF 1-1/2" FEMALE | 80 | 84 | 53.4 | 95 |
| 50 | VVS 2 GAS M 2V | BSPP 2" FEMALE | 110 | 115 | 81.9 | 118 |
| 50 | VVS 2 NPT M 2V | NPTF 2" FEMALE | 110 | 115 | 81.9 | 118 |