Christmas Holidays
We will be closed for Christmas holidays from December 23rd to January 6th included.
XVV Series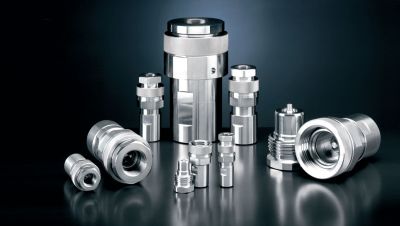 Applications
The XVV series quick-release couplings are indispensable in those applications where it is necessarily required stainless steel with high working pressures. They are purposely dimensioned to stand very high pressures and peaks.
Screw-on latching system guarantees the stoutness and also avoids the accidental release of the male from the female. This type of couplings is suited not only to applications characterized by very high working pressures but also to those where particular system requirements are specified, such as compatibility with aggressive fluids, or operation in marine environment or in other critical environment. The XVV series is interchangeable with the most common screw couplings on the market.
Features
Interchangeability: with FASTER VVS series, DNP VVVX series
Shut-off system: poppet valve
Latching system: screw-on
Connection: screwing-on the male's sleeve
Disconnection: screwing-off the male's sleeve
Connectability: allowed under residual pressure
Disconnection under pressure: allowed under residual pressure
Threads: BSP – NPT
Sizes: 1/4", 3/8", 1/2", 3/4", 1",1.1/4",1.1/2",2"
Materials: Female in stainless steel AISI 316, male in stainless steel AISI 316, valves in stainless steel AISI 316
Surface treatment: electrolytic polishing springs in stainless steel AISI 316, balls in stainless steel AISI 316
Seals: standard VITON, on request NBR
Antiextrusion rings: PTFE
Working Temperatures: NBR -20°C +100°C VITON -15°C +140°C