Christmas Holidays
We will be closed for Christmas holidays from December 23rd to January 6th included.
OGVFR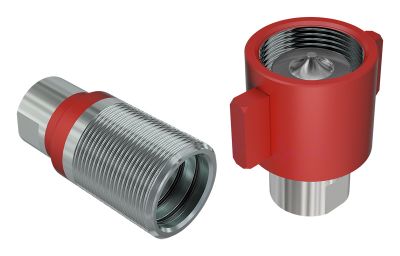 Applications
Screw to connect couplings for oil & gas application, market interchange, BOP certified
Screw-to-connect couplings suitable for Oil & Gas applications. Derived from standard OGV series, thanks to specific components and seals these couplings are API certified and suitable for BOP application.
Items
| Size (mm) | PartNumber | Thread | HEX1 | HEX3 | D1 | L1 |
| --- | --- | --- | --- | --- | --- | --- |
| 20 | OGVFR12 34NPS F | NPSF 3/4 FEMALE | 32 | 60 | 65 | 72.2 |
| 25 | OGVFR16 1NPS F | NPSF 1 FEMALE | 41 | | 105.5 | 87.6 |
| 31,5 | OGVFR20 114NPTF | NPTF 1-1/4" FEMALE | 50 | | 118.2 | 111.9 |
| Size (mm) | PartNumber | Thread | HEX1 | D1 | L1 |
| --- | --- | --- | --- | --- | --- |
| 20 | OGVFR12 34NPS M | NPSF 3/4 FEMALE | 32 | 44.25 | 83.1 |
| 25 | OGVFR16 1NPS M | NPSF 1 FEMALE | 41 | 57.12 | 106 |
| 31,5 | OGVFR20 114NPTM | NPTF 1-1/4" FEMALE | 50 | 66.65 | 136.5 |